Shade Sail Guru
We believe that shade sails can be and should be, anything you want them to be. Sure, we have some ideas, but you are the creator. You know the customer and what they are looking for. You have seen the space and have a vision for the shade you want to create.
But visions can be hard to convey or explain to others. This is a case of needing to show, not tell.
So how do you show your customer what your vision is?
In addition to buildings, you can add furniture, pets, and landscaping to your designs.
We use a 3D rendering program to create 3D images that include buildings, plant life, and more for our customers. MPanel's program InSite is a great way to build your client's backyard and help them visualize how your sails would provide them with shade and beauty. This is not an advertisement and we are not being paid to promote MPanel, rather, we want to share with you the importance of effectively conveying your vision to your client. You want your vision to shine, no matter which tool you use, Sketch-Up, InSite, or your own hand-drawn sketch of your design.
Sharing your vision with us is easy too! Our order form has all the information that we need to help you build your vision.
We can make your design come to life in our warehouse, but did you know that we also provide a design service? We can create 3D video renderings of your vision that will WOW your customer.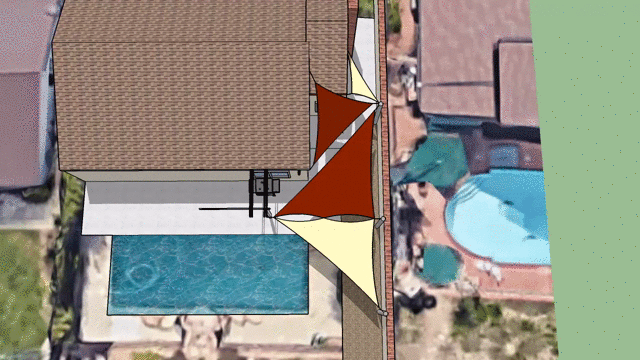 3D video rendering of shade sails in a backyard.
Presenting a clear picture can help seal the deal with your clients and win you the bid. Whether you take the time to learn a program like InSite, or you contract it out, be sure you show your clients your vision.